1MDB Objects to Malaysian Central Bank Chief's Rebuke on Ringgit.
1Malaysia Development Bhd. said it shouldn't be held responsible for the ringgit's weakness, objecting to comments by central bank Governor Zeti Akhtar Aziz.
The resolution to issues surrounding the debt-ridden state investment company will help bolster the currency, along with the timing of the Federal Reserve's interest-rate increase, a recovery in commodity prices and stabilization in China's economy, Zeti said in Kuala Lumpur Monday. 1MDB said it's "disappointed" Zeti appears to have singled it out.
"Historically, never once has one company been linked in such a way to the value of the ringgit," it said in a statement Tuesday. It's a "well-known fact" that the ringgit is one of many currencies "that have dropped in value mainly due to the abrupt fall in oil prices, expectations of rising U.S. interest rates and concerns of economic slowdown in emerging markets," it said.
The currency is Asia's worst-performer in the past 12 months, and retreated further on Tuesday after the New York Times reported the U.S. Justice Department started an investigation into allegations of corruption associated with Malaysian Prime Minister Najib Razak and people close to him. The Wall Street Journal said this month the U.S. Federal Bureau of Investigation began a probe into alleged offshore money laundering by 1MDB.
'We don't need any more scandals, we don't need political uncertainty," Zeti said Monday. "When they resolve all the issues relating to 1MDB, then we will see a recovery in our currency."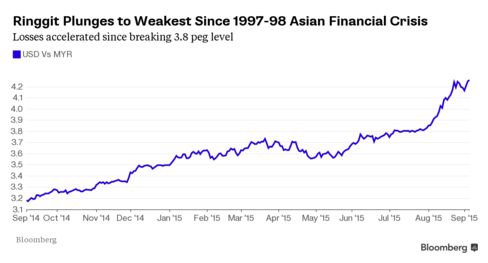 The central bank has sought to distance itself from the controversy surrounding 1MDB and allegations against the premier. It was part of a task force looking into an alleged transfer of about $700 million to Najib's bank accounts connected to 1MDB. The Malaysian Anti-Corruption Commission said the funds were political donations from the Middle East, and the accounts were closed in 2013.
The central bank has submitted the results of its investigation into 1MDB to the Attorney General.
"Right now, we know that the public want answers to these questions, and they deserve to get the answers," Zeti said.
Controversy over 1MDB's finances has dogged Najib for months, although an initial audit report didn't reveal any suspicious activity. Najib chairs the advisory board of the state investment company and has resisted calls from ex-premier Mahathir Mohamad to step down over the fund's performance as it amassed about 42 billion ringgit ($9.8 billion) of debt in less than five years.
No Default
1MDB said Tuesday that the value of its assets exceeds its debt and it has "consistently met, with no default, its interest service and principal repayment obligations, to both foreign and domestic lenders."
The New York Times said a government probe is focusing on U.S. properties that were purchased by shell companies belonging to Najib's stepson and money in the premier's personal bank account. Najib's press officer didn't respond to a call and text message seeking comment on the report.
While Malaysia has come out "quite well" on compliance with international standards on anti-money laundering, the
Financial Action Task Force
would like to see more enforcement taking place, Zeti said Monday.
"In this day and age, it must be noted that there's no place in this planet that anyone can actually hide, because the world has come together," Zeti said. "They will come together to track down any irregular types of activities."